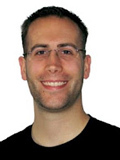 David Smydra works on News Partnerships at Google, where he manages the participation of national and international news organizations in Google Play Newsstand. Since 2008, he has also helped online news publishers by developing metatags, indexing tools, and user-facing features in Google News. In the spring of 2014, Smydra conducted a visiting fellowship at the Nieman Foundation at Harvard to explore how future news events could be expressed in structured data.
Smydra has worked in digital media for more than ten years, beginning with internships at small publications and various freelance work before earning an M.A. at Stanford's Graduate Program in Journalism. His Master's thesis explored the tensions that arose for print magazines when they tried to go online amid the explosion of social networking and digital communities. He worked as a local beat reporter for the Half Moon Bay Review, where his economic and breaking news reporting earned accolades from the California Newspaper Publishers Association. His freelance writing has appeared in the Boston Globe, the San Francisco Chronicle, and elsewhere.
Outside of work, Smydra enjoys the epic suffering of running long distances through mountain trails and planning the adoption of his next retired racing greyhound.